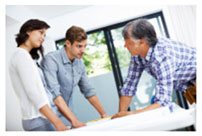 Those who are traditionally employed will often have the benefits of three months of pay should they contract an illness or have an injury that prevents them from working. Contractors, on the other hand, are more exposed to financial risks the first day they are unable to be on the job site working.
Although this situation may seem frightening and hopeless, there are insurance products available that can help those in a contractor's profession protect their income and financial stability.
Basics of Income Protection Policies for Contractors
The basic information contractors should know about income protection insurance is that it will provide them with "sick pay" benefits should they suffer from an accident, injury, or illness that prevents them from working.
This policy will pay their monthly income, up to 70 percent, after a deferment period chosen when purchasing the policy. Policies can be arranged based solely on the worker's contract rate as a means to provide more protection for their monthly income.
Should the contractor be unable to return to work at all, due to a serious injury or critical, long-term illness, it is possible to arrange an income protection policy that will provide financial support up until the worker's retirement benefits begin.
By working with a financial or insurance provider, it is possible for contractors to find an income protection policy that will meet their needs and carries premium amounts that will work with their monthly financial budget.
How Contractors Can Protect Their Income and Way of Life
Contractors have the ability to protect and maintain their standard of living by saving a fixed amount of money every month and putting it toward a permanent health insurance policy or PHI. A PHI policy will help to financially support the policy holder should they not be able to work for some reason and can help them to maintain their living standards for a period of time up to retirement should they suffer a more serious accident or illness that prevents them from going back to work at all.
The financial benefits paid from an income protection policy can be used for any application – these funds can be used to cover monthly bills such as rent, electric, heat, and others but can also be used to cover larger, more dire expenses, such as a mortgage payment or maintaining payments on a personal loan. Having income protection helps contractors to ensure that, should they be unable to report to the job site to work, they will still be able to cover their financial responsibilities.
How Income Protection Works for Contactors
Companies that provide permanent health insurance policies, which are usually insurance companies, will replace the contractor's income after a specified waiting period. This period of time is pre-determined and chosen by the policy holder.
The term that is generally used to describe this period is the "deferred period" and this period of time will generally be anywhere between a month and a year. Generally, the longer the deferred period, the less the policy will cost in premium payments.
Those who have more money put aside in their personal savings account to cover their expenses should they be out of work for a period of time, such as three to six months, may opt for a longer deferred period in order to drop the cost in premiums.
Alternately, those contractors who do not have significant personal savings to rely on should consider taking a shorter deferred period in order to receive their benefits faster and help them stay on top of monthly bills and other financial responsibilities.
Even though some minor accidents or illnesses are unlikely to trigger an insurance claim, the policy will provide income protection should a more serious, possibly distressing event occur, such as a serious accident or a critical illness that prevents working for a long period of time. While many people believe a long-term injury or illness will happen to them, paying the monthly premium and knowing their financials are protected should something happen down the road is often worth the money.
Amount Paid by Income Protection Policies when a Claim is Made
Income protection policies will give contractors the ability to protect up to 70 percent of their income. When looking at different policies and providers, policy seekers should be realistic about the amount of protection they need in order to control the premium cost.
For example, some luxuries can be omitted from a monthly budget while essentials such as a cable television subscription or maintaining a vehicle for mobility may be more important should the policy holder be out of work for an extended period.
Should the policy holder be critically injured, it may be necessary for them to pay for modifications to their home or hire in-help care while they are incapacitated, so it is important to make sure there are funds available to cover these costs.
While thinking about these devastating topics is painful, it is important to remember keeping comfortable when sick or injured will often rely on the financial health someone has and what they can afford to do in order to get healthy and back to work. When looking at different policies and policy options, it is important the provider understands the nature of the contractor's income since many insurance products will only pay out based on salary.
Policy seekers should determine if dividends are covered in the policy – it is important to note that many insurance providers are not keen on covering loss of dividends, which are often considered as investment income although the dividends will dry up should the person be unable to work.
With this in mind, it should be noted there are a select group of income protection insurance providers who cover income regardless of its source. Generally, it is pointless to work with a company and pay premiums on a policy when it is difficult to make a claim and receive benefits. When examining different policy providers make sure to check the company's track record for meeting past claims. Delays in paying benefits or efforts to limit or avoid payment of benefits for a claim can be a red flag.
Choosing the Right Income Protection Provider
Any company providing income protection insurance should be able to provide a policy seeker with information on previous payments to its clients for review or a knowledgeable insurance advisor will be able to provide insight on past client experiences with a specific insurance company.
This is an example that, when it comes to financial planning, the cost of a policy should not be the only deciding factor – unless the policy seeker is positive that the insurance company will honor its claim, there is no point in paying them a monthly premium for an income protection product.
Occupation Definition for Income Protection Policies for Contractors
Another important area for contractors to consider when looking at income protection policies is guaranteeing the policy will pay out if they are unable to perform the tasks of their own, specific occupation.
There are two different terms assigned to the definition of someone's work – any occupation, which means they have the ability to perform any job in any field or own occupation, which means they have the ability to perform the tasks of their specific job in their specific field.
For example, if a contractor were to use the any occupation definition and become injured, the insurance company could say they are still able to perform the duties of shelf stocker or cashier and deny their income protection claim.
When the own occupation definition is used, the insurance company will need to evaluate the contractor's illness or injury and determine if they are unable to work the specific tasks of being a contractor – if it is determined they cannot, they will receive their benefits.
Considering Inflation When Choosing an Income Protection Policy
When taking a look at the impact a long-term injury or illness will make financially, it is important to make sure that the income protection policy that is chosen covers a period of time that could last up until retirement age, which is usually between the ages of 60 and 65.
Contractors should make sure they know the date in which their pension will begin to pay out – "old age pensions" will usually not pay out until age 65 for both male and female contractors – so the term of their policy is scheduled accordingly.
It is important to also consider the effects of inflation on living expenses and the value of an income protection policy, so "inflation proofing" a policy is always recommended. Allotting £2000 a month to cover expenses may seem like more than enough now, but 10 years from now that may only cover a fraction of monthly bills.
One way to help account for inflation is by choosing a policy that will increase the amount the policy is insured for every year – many policy providers will do this at different percentages, general 3 percent, 5 percent, or by using the government Retail Price Index, or RPI.
Our knowledge insurance advisor team works hard to make sure contractors understand the protections that may be available to them. We work to provide the client with a concise explanation of coverage while eliminating some of the jargon and making income protection policies easier to understand.
Our team can also help clients to decide what type of coverage and options would work best for them, helping to tailor a policy that will meet their income protection needs and their budget.