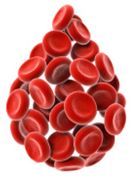 There are many factors to consider when applying for life insurance. The insurance company wants to determine what risks it is taking on when it approves coverage for an applicant.
For that reason, it is important for the company to have a strong understanding of each applicant's age and state of health. This usually includes an individual's family health history.
Even though there are certainly serious health concerns that may exclude an individual from qualifying from coverage completely, there are still plenty of others that would consider an applicant eligible for coverage.
There are cases, however, where it would mean individuals would have to pay more on a monthly premium to compensate for the added risk the insurance company is taking on; this is the case sometimes when individuals with anemia apply for life insurance.
What Underwriters Need to Know
When individuals with anemia apply for life insurance, the underwriters will want to know more details about your condition. That way, they can get a better idea regarding the severity of your case and how well you may be living with it through medicine and other means.
Some of the questions the insurance underwriters will likely ask you include the following:
When were you initially diagnosed?
What is the root cause of your condition?
What are the symptoms you have suffered in the past six months as a result of your condition?
Have you ever needed to be hospitalized due to your case of anemia?
What are the results of your most recent blood tests?
Do you take any type of iron supplement or any other medication for your anemia?
It is important to provide as much information as you can when answering these questions, as it gives underwriters a clearer picture of your overall condition as well as a baseline for how they should price your insurance coverage.
If you are able to control your condition through medication or some other means, you should make a note of this on the application or on a separate piece of paper. This shows the underwriters you are keeping your case of anemia in check, and it can be a positive factor in your favor in terms of getting your application approved.
How Much Premium Will You Pay for Life Insurance with Anemia?
Individuals with anemia who have life insurance have premiums based mostly on how severe their condition is. For example, if your iron level is under control and your anemia is not caused by another more serious health issue, then it is possible for you to gain a Standard (or average) premium rate for your policy.
However, if your condition is more severe, your policy will likely be rated as Substandard, and your premium will likely be higher than your average policy holder due to the extra risk the insurance company is taking on with your case.
The life insurance company will also use other factors for its decision when determining your premium rate including the following:
Age
Gender
Height and weight
Alcohol consumption
Occupation and income (if applicable)
Overall health history
Family health history
You will likely be required to take a medical exam as part of the insurance company's application process. This includes submitting blood and urine samples, which will be analyzed for specific health conditions that also present risk to the insurance company. Once your information has been submitted, the insurance underwriters can make a more informed decision in regardless to your coverage.
Taking the Next Step Towards Applying for Cover
If you have been diagnosed with anemia and plan to apply for life insurance, it would help to work with a company that has access to other insurance companies because it would increase your chances of obtaining approval for coverage. In that regard, we can help because we specialize in all types of high risk life insurance with an emphasis in helping individuals with illnesses and disabilities.
We work with many of the industry's top rated life insurance companies, and we can help steer you in the right direction based on which carriers are more adept at covering certain kinds of risk.
Before beginning, it always helps to compare coverage options and premiums quotes. To do so, simply fill out the form on this page to begin the process. Within moments, you will see your life insurance options along with possible premium rates.
We understand applying for life insurance when you have anemia can bring about many questions, and that is why we are help to assist. Please feel free to contact us toll free at 0203-150-1349 for any questions or concerns you may have, and we will happily help you.