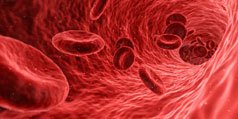 When applying for life insurance, it is not uncommon for a number of medical conditions to make getting approval more difficult. This is because certain conditions can affect an individual's life expectancy, which as a result potentially increases the life insurance company's risk of paying a claim. Individuals with diagnoses of hemophilia may find such issues when applying for life insurance.
Hemophilia is a type of genetic, typically hereditary disorder
This condition revolves around the X-linked, or F8 recessive genes in one's body, and more or less causes impairment in one's ability to control bleeding, clotting, and coagulation. People with this condition do not typically bleed more heavily than others, but they do tend to bleed for a longer period of time and often other serious issues rise as a result of this.
Some more common symptoms of hemophilia include redness, pain, local swelling, and recurrent bleeding in joint spaces like the shoulders, ankles, elbows, knees, and hips.
In some cases, an individual's bleeding can become life threatening if it affects areas like the digestive system, the central nervous system, or the oropharyngeal spaces from the mouth, nose, and throat. Because of these symptoms, it can be much harder for individuals with hemophilia to obtain life insurance.
It should be good to know, however, even with hemophilia you can qualify for traditional types of life insurance coverage. In order for this to happen, it is imperative that you work with a company with access to various insurers so that you have a better chance of qualifying. It's also important you are able to compare policies, benefits, and premium quotes that more closely fit your budget. For that reason, we can help you.
What Underwriters Need to Know
When individuals with hemophilia applies for life insurance, the company's underwriters need to know some specific details about your condition. This helps them get a better idea of how your condition affects your overall health, as well as how well you can control it or not.
The questions below and the answers also assist the underwriters in appointing a proper monthly premium to your policy based on the level of risk you present to the company.
Some of the questions you will likely be asked include the following:
When were you initially diagnosed with your condition?
The underwriters need to know at which age you were diagnosed to fully understand your current state of health. Because hemophilia can be life threatening, early detection may have extremely affected how you control and monitor your condition, especially in regard to frequency of bleeding.
If you can adequately control your bleeding, it is possible for you to obtain a mild substandard rating for your life insurance coverage. If you cannot control bleeding very well, a medium substandard may also be possible.
How many episodes of bleeding do you have per year approximately?
The underwriters need to know the number of bleeding episodes per year because the frequency of episodes (and the length of the bleeding time) can help determine a more appropriate rating class for your policy. Also important is where the episodes of bleeding occur on the body–if the episodes occur at or near major organs, they are considered far more serious.
What, if any, medications do you take for your condition?
The underwriters want to know specifically if you take medications to help prevent bleeding episodes and, if you do, which medications you take. It is possible to qualify for a mild substandard rating if your medication of choice is helping you control and manage your condition.
Do you regularly schedule visits with your hematologist to discuss your condition?
Having regular check-ups with your specialist shows that you are trying to control condition, and underwriters take this as a positive sign in regards to your policy.
Have you had any type of relevant lab tests performed over the past year?
The underwriters are better able to obtain a clear picture of your risk of hemorrhage if you have had relevant lab testing performed to measure your bleeding and clotting time. By having positive exam results, you may possibly obtain a better rating for your policy.
Do you partake in potentially higher risk activities or hobbies?
It is important for underwriters to know if you participate in activities or sports that can trigger bleeding. If you do, you can possibly gain a higher policy rating because this would be considered a higher risk of claim to the life insurance company.
In addition to the specifics about your case of hemophilia, the underwriters also review general information that you send in with your insurance application. You provide such data as: (1) age, (2) gender, (3) height and weight, (4) overall health history, (5) family health history, (6) smoking status, (7) alcohol use, (8) occupation and income, (9) marital status, (10) foreign travel participation.
All of these details are compiled in addition to the results of the blood and urine samples you are required to provide as part of the underwriting medical exam. These samples are usually analyzed for certain types of health conditions that can add additional risk of claim to the life insurance company.
Once all of the information has been evaluated, a decision can be made regarding coverage. Most of the time, individuals with hemophilia who apply for life insurance can obtain a policy with a mild substandard rating–provided that you are in relatively good health, and your condition is well controlled through medication and other means.
How to Obtain Life Insurance with Hemophilia
When you have hemophilia and are working to obtain life insurance, a company with access to multiple insurers is often the best to work with. As a result, your information will not be subject to the underwriting requirements of only one company.
We can help when you are seeking the life insurance protection you need. We work with many of the best insurance companies in the marketplace today, and we know which carriers are better suited to work with applicants whom the insurance industry considers to be higher risk.
We can help guide in the right direction before the application process begins, in the end saving many hours of time and frustration and obtaining the right coverage for you quickly. To get started on the process, just simply fill out the form on this page.
If you have any questions regarding life insurance and hemophilia, how to obtain or compare policy quotes, or about life insurance in general, please feel free to contact us directly. We can be reached toll-free if you call 0203 150 1349.
We want to help you get your necessary coverage. Contact us today–because we're here for you.