Scaffolders, whether they are working in the commercial, industrial, or residential industry, are considered to have a very risky occupation.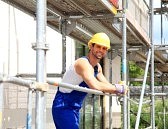 Job duties often include working with machinery and equipment at significant heights while working to erect a safe framework for other individuals to stand on while they work.
Some of the risks associated with working as a scaffolder include risking serious injury, safety issues with equipment and, most obviously, working at great heights.
With the safety risks that scaffolders face every day, it can often be more difficult for them to secure affordable, comprehensive life insurance coverage. Other types of financial protection, such as critical illness cover and income protection, may also be harder to secure.
Here, we will discuss the challenges that people face when trying to find life insurance coverage and the information they should know in order to find and purchase a life insurance policy that is both comprehensive and affordable.
Life Insurance Policies for Scaffolders
The height in which scaffolders work often weighs heavily on the life insurance options available to them. Workers who operate under 40 feet will often be able to secure a life insurance policy for standard terms from most life insurance providers.
For people who work above a height of 40 feet, a life insurance application may need to be placed with a specific insurance provider that may be more willing to provide the needed life insurance policy with the increased risk of higher heights.
Currently, there are life insurance providers willing to offer scaffolders standard terms for a policy regardless of the height at which they work. Additionally, if you work abroad, the insurance agent will need to know the locations and will take your travel into consideration when deciding on providing coverage and at what premium to charge.
The insurance advisors at Claybrooke can help to match scaffolders with the right insurance company to provide them with the best possible coverage.
Income Protection for Scaffolders
Scaffolders can secure income protection with an own occupation definition if they approach the correct insurance provider. Income protection means that, if you are unable to work due to an injury or illness, the protection policy will pay out to help you financially.
Using other definitions of cover, including any occupation or suited occupation, may be more difficult to secure and Claybrooke advisors will encourage scaffolders to purchase own occupation cover whenever the option is available.
Generally, income protection offered will be provided with a deferment period of between four and 52 weeks. This period is the amount of time you will need to wait from the time you stop working due to illness or injury and the time your critical illness coverage will be paid.
Your decision on which deferment period works for you should be chosen based on the benefits offered by your employer, your current savings and how much financial support you need to cover expenses.
Critical Illness Cover for Scaffolders
When applying for critical illness cover as a scaffolder, you will need to outline the details of your occupation, specifically the height at which you work. Those who work at 40 feet or lower will often be offered critical illness cover at standard terms.
Heights above 40 feet are considered much more risky which means, once again, you may need to approach a specialised critical illness coverage provider. Claybrooke can help to find the right provider who will be willing to work with you and meet your needs.