Today, the age of 45 is still considered young, but it is a time when you seriously need to consider the future financial security of both you and your family.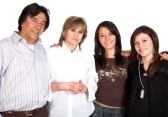 You are finally reaching your full earning potential in your chosen profession, but what would your family do if something unexpected were to happen to you. While nobody likes to think about things such as this, it is necessary to prepare for them.
Now is the time to secure your family's future by purchasing an over 45 life insurance policy. You still have time to avoid the higher premiums associated with insurance over the age of 50. You will also have more flexibility in regard to the types of underwriting required for a life insurance policy.
If you live in the UK and are looking for cover, you will be happy to know you have plenty of options available. Claybrooke has life insurance policies of all types, including special coverage such as critical care and mortgage protection. If you are over 45 and looking to secure a policy that is budget friendly as well as providing your family with financial protection, we are here to help you!
Why Do I Need Over 45 Life Insurance?
One common fact about insurance is that the older the person being covered, the higher the premiums. Up until the age of 50, these premiums are reasonably low. While they are still affordable after the age of 50, the premiums pale in comparison to policies for those under the age of 50. If you are over 45, now may be the last opportunity to take advantage of these lower rates.
You must also look at how much your family depends on your salary. Most of us are finally coming out of debt and earning much more than we did in our 20s at the age of 45. You are now erasing debt quicker than ever and finally building up a savings for your retirement. If your salary were suddenly taken away from your spouse, how would the family survive? This alone is reason enough to seek over over 45 life insurance cover.
When deciding how much cover is needed, look at the cost of current bills as well as what those costs will be in the future. Your policy should cover not only household bills but also every day bills, such as groceries, educational, and secondary care costs. You will need to figure in the costs of inflation to estimate the cover value of your policy.
What Will My Over 45 Life Insurance Policy Provide?
One benefit of over 45 cover is automatic acceptance. For applicants that meet all requirements, no medical underwriting is required. In most cases, this will extend through the age of 75 and possibly even into your 80s. This is a significant benefit in that you are guaranteed cover without the need for medical exams throughout the coverage period.
With life insurance over 45 plans being based on the group rather than the individual, you are able to avoid the high costs of coverage. This enables you to save significant money on premiums over the course of the policy.
There are also policies created where the premium ceases after a certain age while you actually retain the right to benefits. As one get older, income is often limited to savings and created a very tight budget. For someone living past the age of 85, this could result in significant savings while still allowing you to leave a legacy for your loved ones.
What Do I Need to Be Aware of Regarding Over 45 Life Insurance?
A common clause in any life insurance policy is a restricted cover clause during the first two years of the policy. In other words, an accidental death may be the only type of payout received if the covered individual dies during that time. This is done to protect the insurance company against individuals with existing conditions that could result in death during that initial period.
In some cases, accidental death is acceptable for benefits payout. If the insurance company does not offer full benefit payout, they will often offer a reduced benefit payout or a refund of premiums. This is something you should discuss with one of our life insurance experts to ensure you are getting the proper coverage on your policy.
It is advised to shop around for different policies because of the life expectancy of people today. Someone in their mid 40s likely has 25 or more years remaining if they are healthy. It is not uncommon today for people to live will into their 80s and beyond.
While this is great news, it also means that if you are getting insurance at this age, there is a very good chance you will end up paying more in premiums than the benefit is in case of death. Again, use our team of experts to help you find the best policy with a premium that is more beneficial.
Once you secure cover, you must also make sure premiums are never missed
If this happens, the policy becomes null and void and no benefit will be paid in case of death. If something happens where you are unable to make payment for any reason, you should contact the insurance company immediately to see if temporary arrangements can be made during this time.
If the policy expires, you will have to secure another policy and the terms may not be as beneficial as the terms on your current policy.
You should also check to see if the policy beneficiary would be required to pay inheritance tax on the payout. If the insurance is being used to cover bills, you may want to increase your cover to compensate for any taxes that must be paid upon collection of the benefit.
Final Cover and Premium Considerations
As briefly mentioned above, the amount of the cover will be the same for the term of the policy. If you have a policy today valued at £500,000 but do not pass for 30 years, this amount will hardly cover the same expenses then as it will now. This is something that must be considered when securing a policy.
You must look at the expenses due from this day forward as well as the expected expenses in the future. For example, your spouse may not have a mortgage payment to deal with in 30 years, but he or she may have some type of extended medical care or home care that is not covered by insurance. If you have children, there could possibly be educational costs in 20 years that are not there today.
Claybrooke will work tirelessly to ensure that you receive the best policies to fit into your budget and needs. You can use the comparison tool on our website and then give us a call to finalize your purchase. We look forward to hearing from and more importantly, we look forward to helping your secure your over 45 life insurance coverage.