Once consumers decide on a life insurance type and limit, they should compare the prices that different providers offer.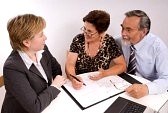 Life insurance is offered by building societies, banks, supermarkets, advisors, and high street retailers.
In some cases, one company sells life policies offered by another. A comparison website offers quotes from several providers.
Insurance premium quotes vary based on the seller of the policy so consumers should shop carefully.
Advisors Selling Life Insurance
There are many life insurance advisors in the UK and these professionals are often associated with a specific life insurance company. As such, they cannot provide quotes for policies offered by another company.
Some life insurance advisors are independent, a status that allows them to search different UK life insurance companies for appropriate cover and offer price quotes for each suitable policy.
These two different categories of advisors may provide different quotes for identical life insurance policies because they have different commission requirements and other charges that vary.
Online Brokers for Life Insurance Policies
An  online broker selling life insurance can shop for cover offered by different life insurance providers. This firm typically does not keep all or any of the commission that an insurance company provides so it can offer a cheaper quote. The broker passes along the amount it does not keep, offering the consumer a discounted premium.
One broker that works in a different manner is Cavendish Online. Customers choose whether to pay by commission or pay a fixed fee up front. If the upfront fee is chosen, the commission is rebated over the term of the policy, resulting in an ongoing premium reduction.
Websites Offering Price Comparisons
A website that offers a price comparison service makes it easy for consumers to compare quotes across different insurance providers from the same website. There is currently not a single site that compares all life insurance products from all providers so consumers should use several comparison websites.
An insurance company may offer different deals through different comparison sites, another reason to shop around.
Websites Offering Cash Back
Several cashback sites deal in life insurance, Quidco and Topcashback being two of them. When consumers purchase life insurance there,  they do not buy the policies from the cashback sites. Instead, these sites serve as intermediaries to the insurance companies. In return for using their services, cashback sites offer consumers rebates of a portion of the commission provided by the insurance companies.
This can save money when premiums are near the top of the table. Since cashback offers from the same insurer for an identical policy can vary from one cashback site to the next, consumers should request duplicate quotes from several cashback sites.
Time and effort are required to comparison-shop in this manner but the savings may more than make up for the work. Even small savings can make a big difference when it comes to a life insurance policy that will be in place for many years. Taking time to read policy terms and conditions ensures that policies that seem the same do not have subtle differences. Selecting the desired cover with the lowest premium is the smart way to purchase life insurance.