Term life insurance is a cost effective alternative for those needing insurance but without the budget for whole of life. While premiums are less expensive, these policies have a specific term after which the coverage no longer exists.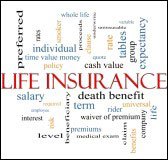 In most cases, individuals can secure a policy in 10, 15, or 20-year terms. However, some companies will offer shorter terms at different age categories.
Because the premiums are much less than whole of life, this has become one of the most popular types of life insurance sold, especially for individuals struggling to meet their budget but that still want financial peace of mind for their dependents. If you find at a later time that your financial situation changes, the policy can always be cancelled and new term or type of insurance can be secured.
Term Life Insurance Policy Types:
There are three basic types of term life insurance: level, increasing, and decreasing:
• Level Term Life Insurance – the simplest of policies offering a full payout if the insured is deceased within the term of the policy. Premiums will remain the same throughout the life of the policy.
• Increasing Term Life Insurance – both the coverage and premium of the policy will rise each year. This type of policy is often secured by those looking to cover inflationary costs over the term of the policy.
• Decreasing Term Life Insurance – this type of policy is very popular to cover the cost of the mortgage. In fact, it is sometimes referred to as mortgage insurance. Premiums will decrease in line with the coverage over the term of the policy. Ideally, the value of the policy consistently matches with the homeowner's mortgage debt throughout life of the policy.
Many of these policies are available as renewal policies. In many cases, there will be no medical exam required and the premiums will remain the same or follow the schedule outlined in the original policy. This is something that should be discussed with one or our insurance experts prior to securing a policy.
How Much Will Your Policy Cost?
There are varieties of things that will dictate the cost of your policy, but some of the most influential factors will be gender, health condition, and whether or not you are a smoker or non-smoker.
In addition to these factors, an obvious consideration is the term desired as well as the cover amount. Options may also be added to the policy, such as critical illness cover, that will add to the cost of the premium.
Outside of these considerations, another major factor will be the age of the insured. Polices are much lower and easier to obtain when someone is younger. As they get older, fewer companies will offer coverage. However, with life expectancies improving, age specific policies are becoming more popular.
Whereas it was almost impossible to secure a reasonable over 50s life insurance policy two decades ago, it is not only possible, but also quite affordable today.
Why Choose This Type Of Policy?
Simply put, a life insurance policy provides peace of mind for the insured that his or her loved ones will be taken care of in the event of his or her death. Perhaps money is needed to raise the children, cover a mortgage payment, or simply provide for the spouse until they can get the education needed to pursue their own career. Whatever the reason, insurance is necessary.
A primary benefit of term life insurance is its affordability. Policies are available for far less than whole of life policies. It is much easier to afford more coverage buying a term life insurance policy, so this type of policy is far more common today, especially for those waiting to get cover until later on in life.
In the event of death, the benefits received relieve loved ones left behind of the financial burden of burial costs, medical payments, existing debt, and mortgage payments (at least for a little while). Having this financial security will make this difficult time much easier on everyone.
Should You Have Any Concerns?
Buying life insurance is a big decision, so you should look at both the pros and cons of this type of coverage and weigh them accordingly. The one major drawback of a term life insurance policy compared to whole of life is that there is no guaranteed payout.
Once the term of the policy has expired, coverage ceases to exist and the insured will receive nothing for the cost of his or her premiums. The only way these policies are paid out is if the insured dies during the term of the policy.
Decreasing term life insurance adds the additional worry of low coverage at the end of the policy. While this type of insurance is often used a cover for the mortgage payment, what is the spouse to do if the wage earner gets sick near the end of the policy? The remaining principal of the mortgage may be covered, but what about burial costs and household bills? This is something to seriously consider.
How Can Our Company Help You Buy Term Life Insurance Cover?
Firstly, we make it very easy to compare term life insurance policies. This can be done using our online comparison tool or by calling in to our office and discussing your needs with one of our insurance experts. Either way, you will save time versus doing all of the legwork on your own.
Our team is here to help you every step of the way. Our goal is to make sure you have the right policy in your hand and you are completely satisfied that all of your budgetary and cover needs have been met. We look forward to hearing from you, so give us a call or use our online contact form today.